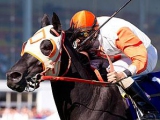 About Me
Basic Information
Gender

About me

Professional, Highly Analytical, Extremely Passionate, Racing Enthusiast for more than 40yr's, but "always learning",.that's what's so intriguing about HANDICAPPING! I previously "rubbed" for S. Lake, T. Ritchey & J. Murphy" in the 80's & 90's.
Contact Information
State

City / Town

Country
My Racing Interests
Favorite Racetrack

Delaware Park

Favorite Horse

Seattle Slew / Cigar

Favorite Racing Code

Thoroughbred
Member since

Friday, 24 May 2013 15:46

Last online

7 months ago
Time to "chime-in!" ...to the astute Adm., as if the contest hasn't been a total debacle two times over, where the same rule wasn't even adhered to with consistency,..kind-a the same as most inconsistent Law & Order, where the Elite Class continually escape scot free, but You as the Official Contest Regulator, can NEVER seem to offer the type of races that a REAL Contest would suggest. / cont'd

Hey "Net's", how bout Ya try and convince us all that "jessica90 & Yourself" are NOT coincidentally "one in the same" entrants in the contest,.come-on, the two of Ya are both from "Roselle Park, NJ", and stand just a couple dimes difference (right next door to one another) in the contest! Isn't this the EXACT SAME CONSPIRACY THEORY that YOU personally decry upon others??? This is far to Hilarious!

meanmistermustard I guess Brad wouldn't do to well in contest. 2 bad days and you're out. A true measure of handicapping skills eh? What % of race fans bet on the premise of ytd totals or year end plus or minus. We [they] go for good times, win a little, maybe get assy and hit something big and the beauty of the breed.

8 months ago

"kdog", Im finally with Ya,.needed the really BAD fav. in the 7th to save from drowning,.nothing like really HATING a horse Ya get stuck with by default! The irony is,.it's been a "chalk fest" of a mostly miserable contest, that is, until I (we and others) desperately NEED one to pull us through! I'm certain that my ever growing legion of fans appreciates my whining! Tomorrow appears the same!

This can't be ignored,.the "Mth Stewards" ought-a be investigated! Those who had 2nd pl. fin. (#10 Reba's Right - race 4,) who was subsequently DQ'd to last for doing ABSOLUTELY NOTHING, should be dousing the Stewards Lock Box with gasoline and passing out matchstix! Furthermore, they NEVER even winked at the eventual Winner (Deference) who drifted out 6-paths while herding "Reba" & 3rd pl. fin

netsfan3 No way, was my invitation to the Trump rally all the way in Wilkes Barre, Pa. last night. Reminds me of a night many, many years ago. My buddies car broke down on the Parkway. We made it to Keansburg, NJ where we got a motel room. We went to the diner. These ghoulish looking people were staring at us. So, we took our food back to the room. My buddies suitcase had disappeared from the room. We went to the front desk, my pal told him we were F.B.I. agents and the suitcase better be returned. The clerk returned the suitcase at that point, with a really ridiculous explanation. Trust me. My pal and I looked more like Mafia wise guys than F.B.I. agents.

I'm responding to a particular stable blogger "David Juffet" who has a propensity to call-out "select Trainers" with subsequent suspensions / violations. However, I'm highly suspecting he hasn't any knowledge of the ongoings behind the scenes of the "black & white media publications" that he apparently utilizes as his Holy Bible. I'm here to offer a bit of insight that ISN'T always apparent within

David Juffet Nice read, thanks for your feedback. You make some great points. Let's agree to disagree. Have a great day. Dave J.

9 months ago

To the Administrator, may I suggest that Ya forward your time to more pertinent issues (i.e.,.rectifying the contest dilemma - actually notifying those that forwarded their selections to You via email,.."in time&quot, rather than reviewing the stables blog, and DELETING my acceptable conjecture in defense of one (Netsfan3) who apparently can assassinate others at free will,..including profanity!

Kudos to "Carol Cedeno's" PHENOMENAL ACHIEVEMENT of SEVEN WINS at "Delaware Park" this past Wed.,.a "DWP" all time record! As touted in this corner in the past, she ain't no ordinary rider! Her outstanding ability to invigorate maximum potential from her mounts is easily recognizable via her very aggressive style, though she's also extraordinarily accommodating to instructions! (via S. Lake)

Cabinnwoods She stoled the show watched the card to the end, saw she was riding some good contenders but she took it and ran awesome performance

10 months ago

Anyone else in the stables think that "netsfan3" is a total, DELUSIONAL, ANNOYANCE???

Itchyone That's my best pick ever in any contest I'm so stoked needless to say. Always nice to handicap a hit like that.I wish I could have bet it here in Hawaii but here's no legal gambling here. If I was at the track I would have had $10 WP on it no doubt ha good luck on your trip

2 years ago

Yikes!!!...Me Ugly Mug!

WINNING!!!